Blending Art and Technology to Create "Cyber Art"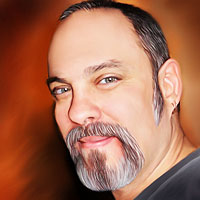 Artwork and Design by Artist Michael Spano.
Michael Spano has been creating custom artwork and design for over 30 years.
Over the years he has worked in various techniques, styles and mediums. Specializing in airbrush and oil paint in the 80's, then in digital art starting in the 90's.
This combination of art and technology enables him to create a unique style of hand drawn digital artwork.
CyberArt takes an idea from concept to completion faster than traditional techniques.
Technology has changed the way art can be created. 
We can do More and do it Faster.
Working with cyberart we can combine drawing and painting techniques, and create art that isn't possible with conventional mediums.
Cyber Art techniques give us the ability to create design variations in a fraction of the time that conventional techniques would require.
This more efficient process, enables us to offer you many design choices, in less time, for less cost.
Our Digital Art is used for Web, Mobile and Print. With years of experience in both technology and art, we can provide you with a wide range of creative services and options.
 WHAT IS CYBER ART?
 Art that is created using computers and transported through the virtual world of the Internet.
cyber
/ˈsībər/ adjective
of, relating to, or characteristic of the culture of computers, information technology, and virtual reality.
"the cyber age"
art
/ˈahrt/ noun
the expression or application of human creative skill and imagination, typically in a visual form such as painting or sculpture, producing works to be appreciated primarily for their beauty or emotional power.
We Do More Than Just Art – We Create Solutions
Philosophy
Our services are based on a single objective: provide our clients with exceptionally creative art and design, and deliver it in a format that is synergistic with their vision, expectations and requirements.
Simply put "We Create Art and Design, the Way You Want It!"
The initial creative process can be confusing ~ We make it Easy and Affordable for you.
We work closely with you to understand your vision, and to help you express yourself in a way that will allow us to make your ideas a reality.
With all of the services that we provide, we create digital comps.
This allows you to be closely involved in the progress of the design phase of a project. It also reduces project timelines by providing fast revision and sign-off turnarounds.
By conducting our business via the Internet we have eliminated geographical barriers.
Having the ability to transfer images back and forth electronically, and communicate via phone and email with you means that the need for a "face-to-face" meeting is reduced. However, depending on the project scope and budget, and the level of necessity, meetings can be arranged.
Professional Creative Services
Our creative services are based on the experience and understanding of art, business, and technology
Art & Design
We work closely with you, to provide innovative – creative solutions.
Using various techniques, styles and technologies, and our expertise with the most advanced digital painting, graphic design and image manipulation software, we provide you with a unique form of Art & Design.
Commission Custom Art and Design
CyberArt Studios can be commissioned for the creation of both custom digital artwork and design, as well as hi-quality printed material.
Printing Services
We are partnered with leading printing firms and service providers who utilize the latest cutting-edge equipment and technology. Our printed products are some of the best in the industry.
The artwork require to produce top quality print needs to be specially created. The digital artwork that we create is "production / camera ready" so no scanning is needed, it's 100% digital and produces the highest quality reproduction.
Custom Commissions
Transform your concept into illustrated art. Illustration provides the ability to convey a message, tell a story, and present an atmosphere and attitude.
"We work closely with you to help turn your ideas into a visual that can be shared."
From concept through completion, we offer expert advice and help you stay involved in the creative process. We know how to get it done, you just need to explain what you want, and we'll make it a reality.
"What does it cost to have custom art created?"
Price is the most asked question, followed by how long does it take to create custom cyber art?
We do our best to work within your budget.  We will make suggestions and offer options to help create the best art possible, at the price you can afford. Project prices are usually determined based on complexity of design, deadline requirements, and usage. Different licenses and ownership rights have varying fees. Our experience and understanding of art, business, and technology, ensures that we can provide you with a robust combination of professional creative services.
We look forward to the opportunity of working with you to make your concept a creative reality.
Send us a Request For Quote through our contact form.
Be as detailed as possible and we will get back to you with a price.
Licensed Art
Why Own When You Can Rent?
There are many situations when licensing a design is much more cost effective than commissioning a custom piece of art.
CyberArt Studios has many unique designs to choose from, and offers various types of license agreements to accommodate most budgets.
We also specialize in modifying our existing artwork to fit your unique needs.
It cost less than having new artwork created from scratch.
Print Media
Our experience in marketing, layout and design, combined with unique artwork, helps us to produce print media that has an edge. All of our designs and graphics are custom, and we are partnered with a leading nationwide printing firm, that utilizes the latest equipment and technology.
Business Cards
Printed Banners (indoor / outdoor)
Posters
Brochures
Flyers
Direct Mail
CyberArt Studios can create all of your print media components from concept to completion, including design, printing and distribution. 
Website Design
Anyone can build a website!
Not everyone can design a unique and functional website.
The Internet is flooded with web designers and easy to use templates for building your own website. If you are looking to stand out with a custom design that has been tailored to your needs, with unique graphics, you need to hire a company that understands design and functionality.
The team at CyberArt Studios has been creating interactive designs since before the internet.
Michael Spano has been creating interactive media since 1990.
If you are looking for something more than ordinary, we may be the right company for you.